Salute Buon Vino!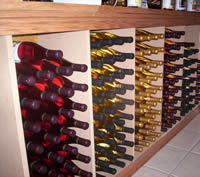 Handcrafted and award-winning wines await you at the Winfield Winery, located in the beautiful countyside of southwestern Pennsylvania.
Our product line includes over 25 wines that are produced in small batches, in stainless steel tanks below ground level in our special fermenting room. We take great pride in our product and we're sure that you'll find something here that pleases your palate.
Owned and operated by John Ricchuito and established with the generous support of so many friends and family members, the winery began operation in the summer of 2006.
Visit us and try samples from our unique tasting bar. Carved by hand from a very old Pennsylvania Hemlock, it makes a unique centerpiece for our cozy tasting room. Chilled wines are available. Enjoy a bottle or a glass of wine, out on our patio area,you can bring your own food to enjoy on the patio.

Located at 1026 Winfield Road, Cabot, Pa, 16023
Phone- 724-352-9589
Email- winfieldwinery@consolidated.net
Tasting Room Hours at The Main Winery in Cabot, Pa:

January thru May- Closed Mon, Tue, and Wed.
Open Thur, Fri, and Sat, 11am to 7pm, Sun 11am to 5pm.
June thru December- Closed Mon, Open Tue thru Sat 11am to 7pm, Sun 11am to 6pm.
Closed- Easter, Memorial Day, The 4th of July, Labor Day, Christmas and New Years Day.
We are permanetly closing our tasting room located in Slippery Rock, Pa. on 7/31/17

We would like to thank all our customers and friends for the business and friendship we enjoyed over the past 7 years. Please stop in at our Main Winery,we would love to see you.
Our wines are still being served at North Country Brewing Company, located on Main St. in Slippery Rock, Pa. They have great food, great beer, and great wines.
Thank you, John Ricchuito